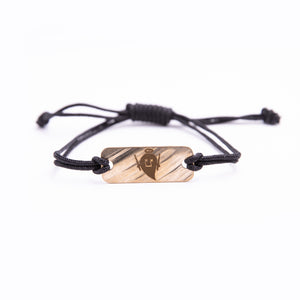 Item ships out within 7 business days. Add a limited edition signed drumstick from Matt! Just tick the box above.

Order all 3 items (Holy Ghost Notes bracelet, necklace and drum key) and get a free signed drumstick from Matt Greiner! We will add the stick to your order when shipped.

Your wrist will never look more cool with this reclaimed cymbal bracelet! Etched with the Holy Ghost Notes logo, this bracelet is great for every day wear and made with strong paracord.
This item is extremely limited so don't miss out!
Exclusive item from Holy Ghost Notes // Matt Greiner of August Burns Red

Cymbal piece is 1.25" x 0.5"
Easily adjustable 1.5mm paracord
Water resistant, but for longest life keep away from water
Reclaimed from broken cymbals made from bronze
Polished exterior finish
Due to the reclaimed nature of the cymbals we use, each product is different. You may receive a piece that slightly differs than what is pictured
Made in Salt Lake City, UT