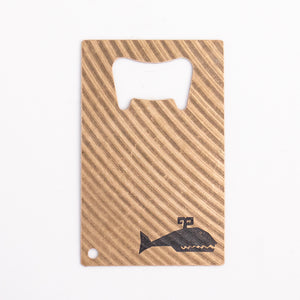 LIMITED TO 20!

*Bundle and save! Add a drumkey, dogtag necklace and bottle opener to your cart and get a $10 discount*
Open bottles in style with this heavy duty reclaimed cymbal bottle opener, etched with Matt Greiner's whale logo. Made to fit in most standard size wallets, the card carry bottle opener is made from a thick drum cymbal and is a conversation piece. 

3-3/8" long x 2-1/8" wide

Size of credit card to fit in wallet

Keyring hole

Reclaimed from broken cymbals made from bronze
Due to the reclaimed nature of the cymbals we use, each product is different. You won't receive exactly what is pictured. Your piece will have it's own unique marks and character, that's what we love so much about each one!
Made in Indiana, USA
30 day returns + 1 year warranty
Free shipping within the US, this item ships out within 1-2 business days.

Add a signed drumstick from Matt for $20! Just tick the box above.