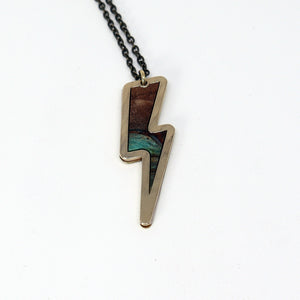 You will receive THIS exact necklace! This necklace contains our cymbal Bolt design, with a wood and resin piece inside. Brass backing. 
Comes with an 18" antique bronze chain. If you'd like a different chain, please let us know in the order notes.
There is only ONE of these pieces available, so when it sells out it is gone forever! This is a part of our Mixed Media collection: The Mixed Media collection consists of a mix of reclaimed cymbals and other materials, like wood and resin, for an unlikely and unique pairing. Precision cut and hand sanded and assembled.
Reclaimed from broken cymbals made from bronze with a wood and resin inlay
Bolt design is 1.75"x0.5"
You will receive THIS exact piece!

Made in Salt Lake City, Utah

30 day returns + 1 year warranty